Space has always been a popular theme within kids fashion but it is set to make a meteoric rise in popularity after having a starring role in SS & AW collections by big brands such as MGSM, Herschel, Paul Smith Junior and a Ray & Robin favourite – Anne Kurris. It's clear this trend is finally having it's time in the sun.
Check out our top five space themed garments that will rocket your kid to the top of the style charts.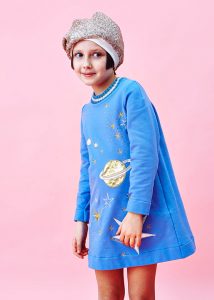 MiMiSol was launched in 2011 by Italian designer Imelde Bronzieri. It is one of the brands that gets us really excited about
Kid's fashion
. Each collection has a separate theme that is bursting with vintage charm comprising of traditional garments blended with modern twists. As with every garment designed by Bronzieri, each item in the Constellation collection is made with the most luxurious materials – fine silks, expensive velvet and often individually embroidered. We recommend rocketing into this trend with a bang and what a better way to do it than in a
MiMiSol Constellation dress
.
READ MORE
[advps-slideshow optset="3″ exclude-current="1″]